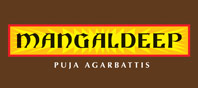 Incense Sticks from ITC
With a diverse range of enchanting fragrances, Mangaldeep Agarbattis are sourced from various manufacturing centers across the country, thereby providing livelihood opportunities for more than 7,000 rural women.
With the aim of playing a deeper role in the devotional lives of consumers, Mangaldeep has also launched a unique mobile app, available in Google Play and Apple App Stores. The app hosts a gamut of content across Puja Vidhis, Devotional Songs, Mantras, Shlokas and Panchang Calendar. The content has been curated by partnering with subject matter experts and is available in 7 languages including English, Hindi, Bengali, Marathi, Tamil, Telugu and Kannada.