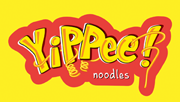 Instant Noodles, Instant Pasta from ITC
Sunfeast Yippee! continues to wow consumers across the country. Its unique round block and long, slurpy and non-sticky noodles have created consumer delight. The range is available in 3 flavours of Magic, Classic and the newly launched Chinese Masala.
Sunfeast Pasta Treat continues to offer a delicious and nutritious range of Pasta products in 4 different flavours.
Yippee! range of products

Yippee! Magic Masala

Yippee! Classic Masala

Yippee! Power Up Masala

Yippee! Mood Masala

Yippee! Creamy Corn Pasta

Yippee! Masala Pasta

Sunfeast Pasta Cheese

Sunfeast Pasta Tomato Cheese

Sunfeast Pasta Masala

Sunfeast Pasta Sour Cream Onion
Experience Yippee! - TVCs and Print Ads