Savlon has a heritage of more than 50 years in India. ITC's Personal Care Business marked its foray into the health space with the acquisition of the brand in 2015.
Savlon Antiseptic Liquid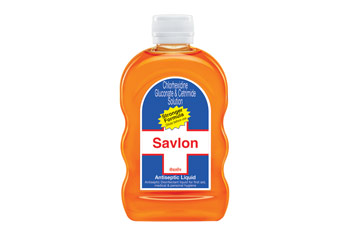 Antiseptic Liquid
Savlon Antiseptic has been a trusted brand for last 50 years and is preferred by the medical fraternity for its broad spectrum action.
Savlon Antiseptic Liquid has a unique formulation of Chlorhexidine Gluconate & Cetrimide. It is an antiseptic liquid which finds wide application across hospitals & homes for disinfection and wound healing.
90% of Doctors trust Savlon Antiseptic
Helps Heal without Hurting
Kills 99.99% germs
8 Times more Germ Protection
* Disclaimer
Savlon Soap Range
Savlon Soaps come with a unique proposition of "Tough on Germs, Gentle on Skin".
Savlon Glycerine soap: Offers germ protection with gentle moisturising.
Savlon Aloe-Vera soap: Offers germ protection with natural moisturising.
Savlon Double Strength soap: It is a new launch in the Savlon Soaps portfolio with Active Silver, that offers protection from a 100 diseases. It is infused with silver nano actives. It has been approved by the Skin Health Alliance, UK.
Glycerine soap
Aloe-Vera soap
Double Strength soap
Savlon Handwash Range
The new range of Savlon Handwash with Silver Nano particles comes in 3 exciting variants & propositions giving protection against 1 million germs. It is approved by Skin Health Alliance, UK
Savlon Double Strength Handwash: Its unique formula with medicated fragrance, offers effective and powerful cleansing for hands with extra dirt & grime
Savlon Moisture Shield Handwash: Its unique formula with floral fragrance, offers moisturized cleansing to make hands soft & supple.
Savlon Herbal Sensitive Handwash: Its unique formula with herbal fragrance, has been designed for Sensitive skin.
Double Strength Handwash
Moisture Shield Handwash
Herbal Sensitive Handwash